You're interested in meeting my girl, Little Miss Daisy? Excellent! She'll be happy to know people are checking out her pictures. She thinks she's very important, you know. She's even got a video on YouTube now! How cool is that? Scroll down to the bottom to see it here, as well.
Adoption
Daisy was born in a litter of six kittens to a barn cat that I dubbed "Mama" at the end of October 2017. She and her littermates had already been born and moving around and nearly feral by the time I started work in that barn. They were used to seeing people, but they were leery and so cute with their little hisses.
I had just lost a beloved pet, and it had been some time, so I decided to adopt one of the kittens from the barn and attempt to turn her into a pet. So at around 4 months old, I took the plunge.
At first, I was going for the only orange kitten of the bunch. But Little Miss Daisy was the brave one who approached me cautiously and sniffed my fingers.
Then I basically kidnapped her from her litter and separated her inside. I live and work with horses, so we have studio apartments atop the barns.
She drove me CRAZY for two weeks as she really did not like being confined. She did bond with me easily and loved me, but she was totally against being confined inside. Probably I adopted her a little late and she knew she was close to her birthplace, I don't know. For whatever reason, she refused it. She was not settling down and I finally had to compromise.
I allowed her to go back outside with me, but forced the confinement at night and whenever I wasn't outside. This didn't go over really well, either. Sometimes cats are seriously set in their ways, even at only a few months old. She became the little escape artist, in fact.
I decided having a happy cat was more important to me than a perfectly safe cat and so she got reintroduced to her siblings when she was following me around the barn during work. She played and had a blast, and would follow me back to the apartment for food and attention.
After a week of this, her brother, the orange kitten that I was originally going for, decided to follow us. I, of course, fed him. He decided he wanted to be a half-pet too and adopted ME and refused to go back. I named him "Buddy".
I suddenly had two cats when I only wanted to adopt one. But I couldn't say no!
Another week and all six kittens were following me around like puppies. I had to put my foot down, though. I couldn't adopt them all with a small studio and traveling for work. One is great. Two is doable. Three is crazy-talk!
Then Mama decided she loved me too! But this story is about Daisy.
About Miss Daisy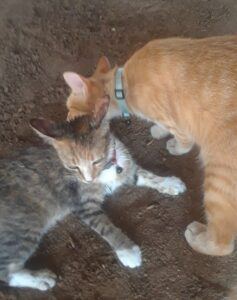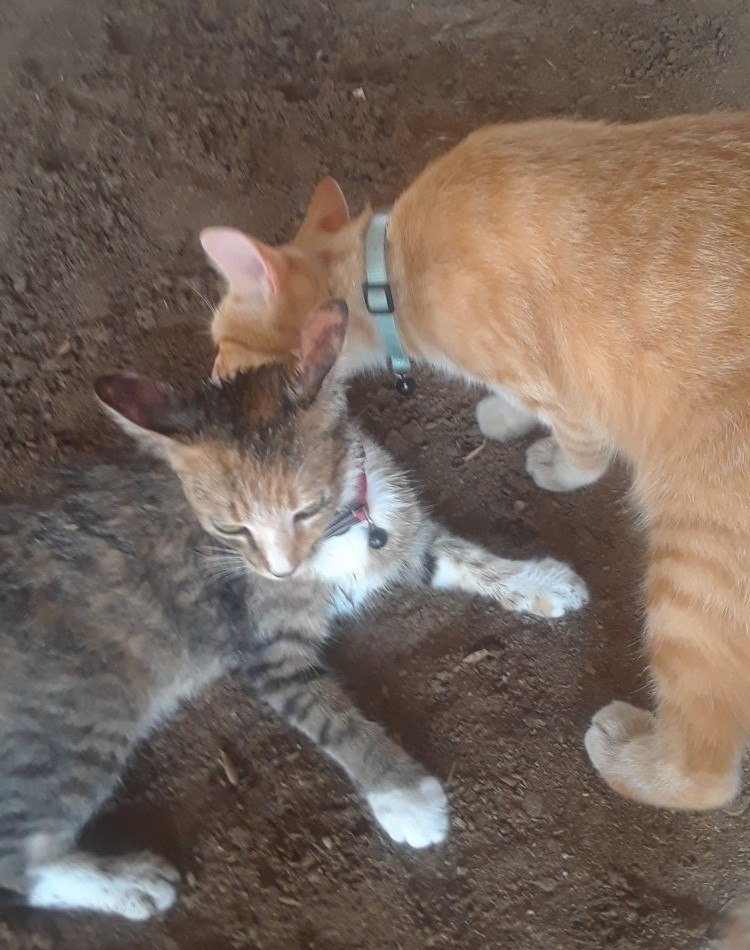 Daisy is a unique looking and beautiful cat. She is what is referred to as a Torbie. She's a tortoiseshell (tri-colored) cat with tabby stripes. She looks like a tabby cat with splashes of orange in random spots.
As an adult, she weighs a grand total of 8 pounds now and she's almost 3 years old as of this post (August 07, 2020).
She's fixed, fully vaccinated, and microchipped. She's dewormed regularly and on Revolution for fleas and other parasites like the rest of my colony. Negative for FIV/FeLV and heartworms.
She got an upper respiratory infection from another cat at one point, after being vaccinated, and the sneeze never went away. After numerous trips to the vet, we're STILL trying to figure it out.
That said, my vet isn't an expert on barn cats or feral cats or anything, so I'm not sure that I won't need to take her somewhere else. She's not sick, she just sneezes often without any sign of allergies as only antibiotics reduce the sneezing.
Likes
She loves me to pieces and will follow me around from one barn to another, like a well-trained dog almost. See the video I created last year!
Daisy loves wet food, usually shreds, no pate, please. She loves her chicken flavors and dislikes fish. But usually, she will eat dry food before wet food. Crazy girl.
She loves being picked up and cuddled by me. She will sit in my arms for an hour getting head scratches, her little paws on my shoulder. She'll even refuse to be put down by clinging to my shoulder with her claws (OUCH!) when I try. Insisting on rubbing her nose and cheek across my face, I get cat hair all over me. She's definitely a Mama's girl!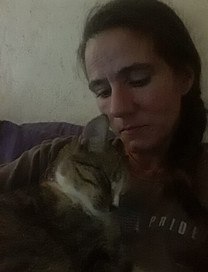 Little Miss Daisy, despite being the most cuddly cat of mine, is also the more independent one. She will follow me around for ages if I'm doing something interesting. But once I'm working or standing somewhere chitchatting, she quickly loses interest and goes about her exploring or whatever she does in the day.
Daisy and her brother, Buddy, love to play and mock-fight each other.
Dislikes
Daisy absolutely hates being confined, even after all this time. I bring her inside the apartment every night. Every night it's a game with her. She sees me around bedtime, she turns around and walks away as fast as she can without running. I have to catch her and carry her inside.
Where she will whine like a child or a dog at the door for an hour (or more) before settling down.
Initially, I wanted her to be indoors with a cat tree and window ledges and such. This was a battle for me because I want her safe. But I didn't want her miserable and she was so miserable at first being confined indoors.
She was born in the barn and lived for months outside before I adopted her. I decided I'd rather have a happy cat instead of a miserable depressed one and compromised on letting her be a barn cat pet.
Daisy isn't very tolerant of other cats getting in her space. She'll slap a kitten on the head for no reason but to be a little crabby diva. Daisy's not horrible though and won't attack other cats. She just wants them to leave her be and stay out of her space.
But she feels threatened by the ex-feral cat Tweety, who has taken to chasing other cats out of the area simply because they run away.
That said, when she's following me around, she does pick on a barn cat we call "Granny."  She will walk right up to her and swipe at her with a paw, no aggression, just calm as you please.  Granny will scream and run up the stairs as if Daisy attacked her.  It's hilarious.
Meet Daisy
Be sure to check out her video above where she follows me and obeys the traffic laws of the barns! It's so cute!!
If you're interested in helping out homeless cats in your community, please see my saving cats post.
Lovies!