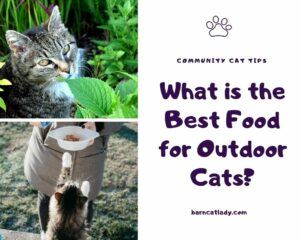 Today we're going to be talking about what is the best food for outdoor cats. It was brought up in one of my comments from a reader, and it's definitely important if you've never had a cat before.
If you've had cats your entire life, you probably have this covered. But just in case, read on!
This article is going to cover: What is the best food for outdoor cats? Plus other basic feeding information like:
Before you feed that poor kitty you feel sorry for, make absolutely sure that you're committed to being this cat's caretaker. By feeding this cat, you will be teaching him to depend on you and if you aren't committed to his welfare, don't start to feed him. He will move on to keep searching for a place with adequate food and shelter and a caretaker willing to care for his needs.
Important Disclaimer: I am not a veterinarian or a nutritionist of any kind. This is not a substitute for veterinary advice on the nutritional needs of your pet.
Disclaimer: This post contains affiliate links.  I may earn a small commission from qualifying purchases, at no cost to you.  Read the Affiliate Disclosure for full details.
What IS the Best Food for Outdoor Cats?
This answer is going to get me in trouble, but…
The best cat food for outdoor cats is the best food that you can afford to feed them.
Outdoor cat food is exactly the same as indoor cat food, although some companies use the distinction to market their products. It's simply marketing if it is labeled for indoor or outdoor cats. That said, there is a wide array of quality and prices in cat food brands.
Feeding a colony of feral or community or barn cats can be seriously pricey if you're not rolling in dough, which is most of us caretakers. We're all broke because we spend a lot of money on cats we don't own. We all do the best we can by our cats. If you can only afford 9-Lives dry food, then that's what you can afford and it is better than no food.
If the price is a problem, then here's a quick list of cheap cat food brands my outdoor cats like:
Other cheap options that I don't use (cats preference, maybe yours will like it?):
If the price is not a consideration, however, then read on!
Cat Biology Lesson
Let's get into a little biology, here. Cats are obligate carnivores. This means they absolutely must eat meat. They do not digest a lot of plants properly. This DOES include plant protein, so no, you can't make a cat vegan. You'd kill him in a horrible manner.
They need higher levels of protein than most animals. They also need to get taurine from their food and that only comes from animal products like meat and milk. Cats do not make their own taurine as a dog would.
This means the best outdoor cat food is going to be high in protein and have a meat protein source as the first ingredient.
Cats likely have no need for carbohydrates at all. These are even considered possibly harmful to your cat in the long-term as carbohydrates often turn to sugar once ingested. This means you might wish to stay away from the gravy varieties, except as a treat.
Another amazing fact about cats is they are designed to get most of their water intake from the meat of their prey. Because of this, they often have a low thirst drive and won't drink as often as they need to.
Cats naturally have highly concentrated urine, normally. Cats that are often dehydrated have EXTRA-concentrated urine and that can cause blockages and stones, which can be dangerous and life-threatening.
Related: What to Cats Hunt For in the Wild?
High-Quality Cat Food Lesson
Okay, so you might be asking yourself why I told you all this?
If you truly want the best for your outdoor feline friends, take a look at the cat food aisle in your local grocery store. Stay away from food that has a high number of plant-based fillers like rice, potato, or wheat. Grain-free does not equal pure meat. They add things like sweet potatoes and such for filler to keep the price down.
Stick to poultry type meat, like chicken and turkey, if possible, as it is more natural to a cat's diet than say fish or beef. Look for ingredients like peas and carrots for the vegetables, not a lot of fillers like corn, wheat, or rice. A little is okay. A lot is bad.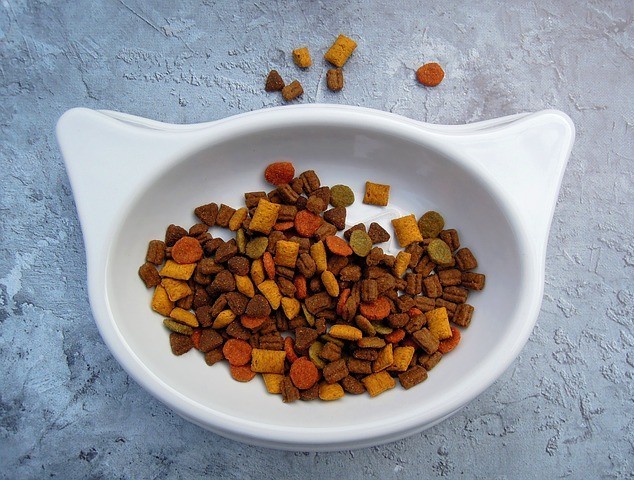 Wet food is also super beneficial as it provides the water cats need in their diets.
Don't be fooled by the 'natural' labels on cat food. A lot of those will add things like rice and other 'natural' ingredients that cats truly have no need for. And natural cat food doesn't mean they did not add synthetic nutrients to that cat food. In order for cat food to be nutritionally complete to help your cat thrive, they have to have certain vitamins and minerals, some of which are lost to processing. So they add it to the food later.
So look for a protein source from animals as the FIRST ingredient. Rabbit is probably the best protein source for cats, chicken is pretty good, but I wouldn't go for the beef or lamb varieties.
A Warning About Food Allergies and Intolerances
Cats often have a sensitivity to certain food ingredients. The top three food allergies/intolerances cats have are to fish, dairy, and beef. But chicken, wheat gluten, and a ton of other ingredients are also possible culprits.
Cats are opportunistic eaters in the wild. Feral cats in nature can be carrion eaters and there has been evidence of feral cats eating an entire dead kangaroo and other wildlife that they obviously didn't kill. So there isn't a lot of food that isn't natural for cats to consume, but their main prey are rodents such as mice and rabbits. But as they will also kill and eat birds, feeding poultry-based cat food is great too.
Fish, beef, and wheat are more unnatural food sources and I've actually come across a lot of cats that dislike fish. Just pay attention to your cat colony. If you notice any signs of food intolerance such as vomiting or diarrhea, switch to a different cat food with a different protein source. Give it a few months to see if it improves. It's difficult to diagnose food allergies in feral cats so this is the best most of us can do.
Food allergies and intolerances can lead to itching, fur loss, vomiting, diarrhea, and a host of other symptoms. Cats with food allergies also tend to have other allergies, such as to fleas or pollen.
So if money is not an issue with the cat food you buy for your feral cats, then I highly recommend buying and feeding limited-ingredient foods as it will reduce the number of ingredients that could cause issues in your colony.
Or the BEST idea for feeding cats is a freeze-dried raw diet. Not a home prepared raw diet as you can't adequately get the nutrients cats need without becoming a cat food nutritionist with a lot of research. But the freeze-dried raw diets available for cats have all the necessary nutrients a cat needs to thrive.
High-Quality Cat Food Brands
If you want the best cat food money can buy, here's a list of some premium cat food brands I've tried or want to try:
I'm not an expert on the zillions of different cat food brands out there as I'm more concerned with the lives of outdoor cats rather than what they're eating. If you have a favorite outdoor cat food brand, please tell me! I'm always interested in trying different brands.
Recommendations & Warnings
My recommendation (if you can afford it) is to feed both wet and dry food. I can't get super fancy myself, but I do feed them both.
Related: Wet Cat Food: Yay or Nay?
I don't recommend you cook food for your cats or colony unless you know the exact nutritional requirements that are needed for the species, exactly what's in what you're cooking, and have consulted with a feline nutrition specialist veterinarian.
Also, I don't recommend that you feed raw food unless you know how to make sure it's free of bacteria or use commercially available raw diets. Cats can digest raw food better than people, but they're just as susceptible to things like Salmonella as we are.
If you're interested in the nitty-gritty details of feline nutrition, there is a great site about it at Catinfo.org. The Cat Info site advocates an all home-made diet, or at the very least, all wet-food diet, and is written by a veterinarian.
Emergency Food Ideas
If you come across a homeless cat and don't have cat food immediately available, you can choose a few of these options. These are NOT for long term food ideas and could cause harm to the cat if used as a primary source of food as they aren't properly balanced for a feline. This is just until you can pick up some cat food as soon as possible.
Again, do NOT feed this long-term.
If you own a dog, softened dog food is acceptable for one feeding. This is NOT a substitute for real cat food and a cat cannot thrive off of it, but just to get food to the cat before it runs off, this is acceptable, though not everyone will agree. However, do not do this more than once or twice. Dog food is not good for cats and cat food is not great for dogs. It can cause digestion issues. But it won't harm a cat just once that is starving.
Another idea is cooked chicken, without bones. Never let any animal have access to cooked bird bones as is believed that they splinter easily. This could cause them actual harm digesting sharp bone splinters. Turkey or duck would also be acceptable. If no poultry is available, any cooked meat is okay.
Cooked is better than raw. Even though cats can digest raw foods better than humans do, they can still get sick from bacteria, as I stated in the previous section.
Another alternative is tuna. Fish isn't the best for cats because it's not usually a natural food source and more often causes food allergies than say chicken is some cats. Plus tuna fish is high in mercury which could be toxic if fed to a cat on a daily basis. But for one meal, it would be fine. As a treat, it's okay as well.
If nothing else, table scraps should work too, and/or a saucer of milk (not too much, cat's don't actually handle lactose well), but be careful of the following:
Never Feed These Foods to a Cat:
Garlic, onions and related foods
Grapes and raisins
Chocolate
Alcohol
Coffee, tea, energy drinks
If you suspect your colony cats or your pets have eaten something toxic, please call the ASPCA Animal Poison Control Center at (888) 426- 4435.
How Often Should You Feed Outdoor Cats?
Outdoor cats should be fed daily, at least, but twice a day is best. If at all possible, it is best to do it at the same time every day. Morning and Evening.
Adult cats eat around 5.5 ounces of wet food per day or about 1/2 a cup of dry food per day according to Alley Cat Allies. Some cats eat more and some eat less.
If after 30 minutes there is still a lot of food left, you're feeding more than you should. If they eat it all within 15 minutes, you're likely feeding too little.
Do not listen to anyone who suggests feeding every other day or not at all for working cats or ferals. Would you eat every other day? There's no guarantee the cats will be able to catch other food. It's cruel.
As for working cats like barn cats, even the most well-fed pampered ones will hunt mice and other rodents, so depriving them of food does nothing more than cause them to go hungry. It does not help them be better hunters.
Cats are excellent hunters and will kill mice on a full stomach. Plus no cat would stick around a place that isn't offering food, even if there are plenty of mice. Feeding keeps them healthy and in once place.
The Importance of Scheduled Feeding
So you might be wondering WHY I gave you the above suggestions about feeding outdoor cats at the same time(s) each day.
Your colony cats will all show up for feed times, enabling you to access them for injury or illness, or if one is missing. Although missing a couple of feed times is not uncommon in outdoor cats.
You will become familiar with their eating habits and will notice when one of them has lost his appetite, which is a sign of illness.
It is much easier to trap your colony cats to be fixed as a part of Trap-Neuter-Return (TNR) if they all show up for food at the same time.
You will notice immediately any new additions to your colony that need fixed or veterinary care.
There is no food left out to attract pest animals like raccoons and opossums or neighborhood dogs. It also lessens the number of ants, roaches, and other insects in the feed area if there isn't food sitting out all the time.
What about Water?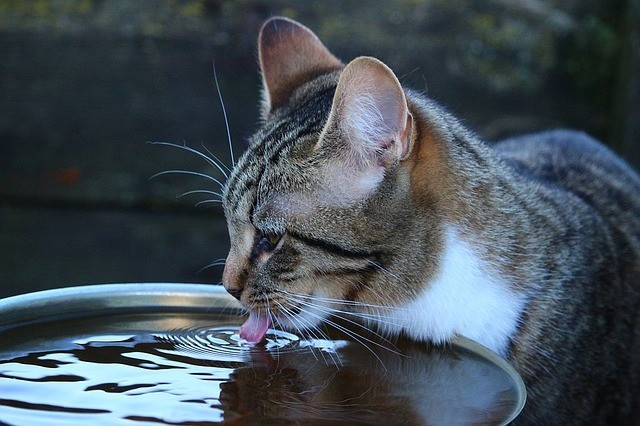 Fresh, clean water should be available at all times. If there is a creek or river near the colony, you likely don't need to worry about providing water.
Even if nothing else, a couple of buckets filled with water will do the trick. Cat bowls made for water are often dumped very easily. Just make sure to change it daily!
The Cats are Fighting Over Food! Help!!
It is a well-known fact that cats are territorial. While domestic cats are social creatures that prefer to gather in colonies of other cats, they do NOT share food bowls well. The more dominant cats will swat other cats out of their way and eat first. The cats lower on the social hierarchy will eat last.
To reduce hissing and spitting at feeding times, be absolutely sure to make food available in multiple bowls at one time. If you don't have a colony of 50 cats, I recommend one bowl per cat. However, that might not be feasible in some areas with dozens of cats. Use wide plates and platters or serving trays to ensure they can coexist eating and use a few of those plates or bowls to spread out the cats.
They will move around and change feeding areas and might bully a cat out of the way, but this ensures there is less competition.
This behavior is observed in fixed cats as well as unaltered cats, but it is often more violent if you have intact cats in your colony. Altered cats are just plain less aggressive than intact cats, but if it's a personality thing, fixing doesn't stop it. I have a bully cat who is fixed and has been forever. He's a big jerk.
Cats With Eating Problems
(A reader reminded me of this, so I'd like to give a shout out to the rescue she volunteers for in Rhode Island, PawsWatch!)
It's an unfortunate fact of feral or homeless cat care that many of them have teeth problems or pain. Sometimes, especially in outdoor cats that have been lucky enough to survive past five years old, they start having problems eating. If you have cats in your colony or barn that cannot eat regular dry food well, you might have to switch to complete wet food for that cat or consider purchasing kitten food with smaller kibble bits.
Signs of trouble eating in an outdoor cat, including but not limited to:
Not eating much
Gulping food, not biting it.
Awkward-looking eating.
Drooling
Tongue often poking out
They may be pawing, rubbing, or scratching at the side of their face and ears if it really hurts them.
If at all possible, it's best to get that cat into a veterinarian or rescue to get their teeth extracted if necessary.
Barn Cat vs. Feral Cat Feeding
I feed the barn cats a little differently than I outlined previously in this article.
Because I feed both wet and dry food, I free-feed dry food throughout the day and have scheduled times for feeding wet food. This is also feasible because they are being fed inside the shelter of a barn, protected from bad weather.
Before dark, I take the cat food that's left inside with me. Feeding cats inside a barn at night carry the same problems feeding feral cats at night do. (Raccoons and other wildlife become a nuisance and possibly a health risk!)
Whatever your cat colony needs, a schedule is important. So is making sure to protect your cats from the dangers that food attracts by being sure they consume it all in a reasonable amount of time.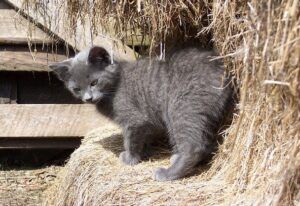 Pregnant and Nursing Cats Feeding Tips
Pregnant and nursing cats, if found before being fixed, could benefit from being fed more wet food than normal and more nutritious food like kitten dry food. Another excellent trick is to mix kitten milk replacement (KMR) in with wet food, as pregnant and nursing queens are eating for many little bodies.
Please don't feed feral cats without practicing Trap-Neuter-Return (TNR)! Get those nursing cats fixed before their next litter. You are causing a LOT more harm than good and you are causing cat and kitten deaths by doing so. Fix them or don't feed them.
If you're in an area with a high feral cat population and shelters forced to euthanize too many animals, you may consider getting the pregnant cat fixed before birth.
Summary
Let's go over this again, in short form this time!
If you're determined and committed to caring for a community cat colony, any cat food within your budget is perfectly acceptable. If funds are available, try to feed both wet and dry food with more meat protein, less corn fillers. Keep fresh, clean water available for the cats at all times.
If you have no cat food in your home, a one-time feeding of softened dog food or cooked chicken (no bones) or tuna will not harm a cat. Do not do this regularly as dog food and tuna are not good for them long term. Cooked chicken is just fine.
Schedule their feeding to one or two times a day, once in the morning and once in the evening at the same time. Do not leave food out all day or night to attract nuisance or dangerous animals to your colonies feed area. This ensures you can keep your pulse on the health and activity of your colony and makes it easier to trap and fix any unaltered cats.
Try to put a lot of bowls or trays or plates out to avoid cats fighting over their food.
If a cat has tooth problems, consider an all wet food diet or a diet of kitten food with small kibbles that are easier to eat.
If your cats are barn cats with a shelter, you can free-feed dry food from dawn until dusk and schedule your wet food feedings, just be sure to remove all food before dark to avoid nuisance and dangerous animals.
Pregnant and nursing cats can benefit from more wet food and more nutritious food like kitten food or kitten formula mixed into their food.
Have any questions or concerns I haven't addressed here that you want to be answered? Please leave me a comment below and I'll be happy to answer! I love hearing from fellow cat lovers!
Lovies!