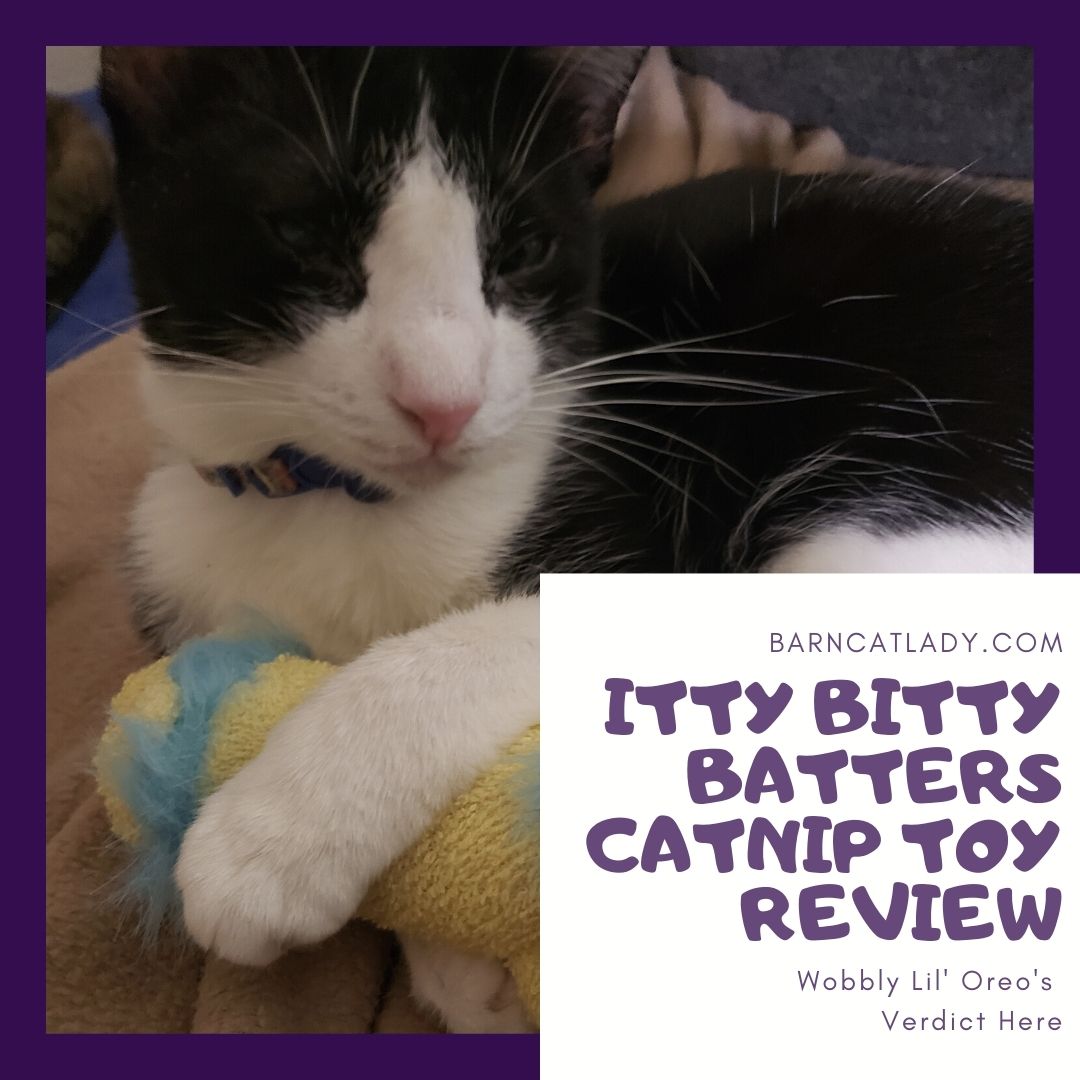 Like any good cat pawrent (both foster and not!), we're always excited to get the cats new toys to play with. So when the Itty Bitty Batters Catnip Toy was given to us to test out, we jumped at the chance. In Oreo's case, literally!
My cats often prefer those cheap catnip mice and so I have gotten in the habit of buying smaller toys because they love tossing them around. But I needed a few toys that the cats can roll over and rabbit-kick. The Itty Bitty Batters toys are specifically designed for that. Awesome, right?
Disclaimer: I received the Itty Bitty Batters Catnip Toy for free in exchange for an honest review. This post contains affiliate links. I may earn a small commission from qualifying purchases, at no cost to you. Read the Affiliate Disclosure for full details.
CUTE!



Petmate Itty Bitty Batters Cat Toy — $4.99

PETMATE
Itty Bitty Batters Catnip Toy by Petmate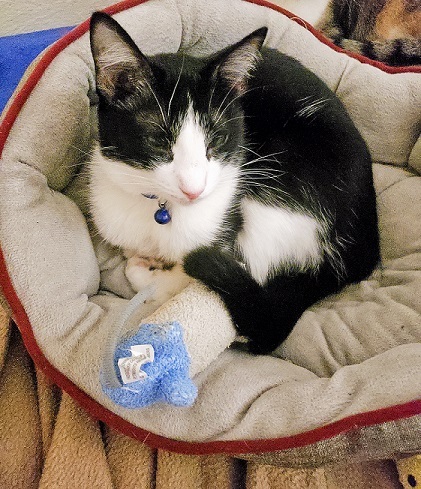 3 designs to choose from: Lion, Mouse, and Rabbit
Adorably designed and colorful
About 6 inches long
Made of a soft cloth and polyfill
Filled with catnip
Great for snuggling, wrestling, and rabbit-kicking!
Purr-fect for cats and kittens
Remember to always supervise your cat when playing with toys. If your cat is particularly rough with his new toy, he may end up tearing it open as if it were a real mouse!
What if your cat doesn't react to catnip and just isn't interested? Then my suggestion is to sprinkle a pinch of silvervine powder on the toy. That will at least get the cats interested enough to see what it is all about.
Oreo's Verdict: Two Paws Up!
My little wobbly cat, Oreo, decided to be my main product tester for this one. At first, she wasn't sure. This is my fault, not the fault of the toy, though. I have never brought one home this large before!
After some careful sniffing and debating, Wobbly Lil' Oreo has decided they are AWESOME.
She keeps trying to play with them in the middle of the night, by tossing them around like catnip mice. But she can be found randomly seeking these bad boys out specifically to carry around.
Oreo also loves stashing them in her water bowl. She only does this behavior with her favorite toys.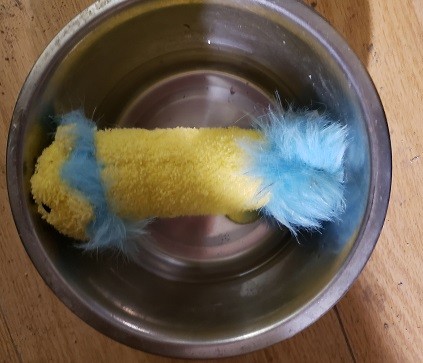 She's also enjoys carrying them to her favorite hiding spot!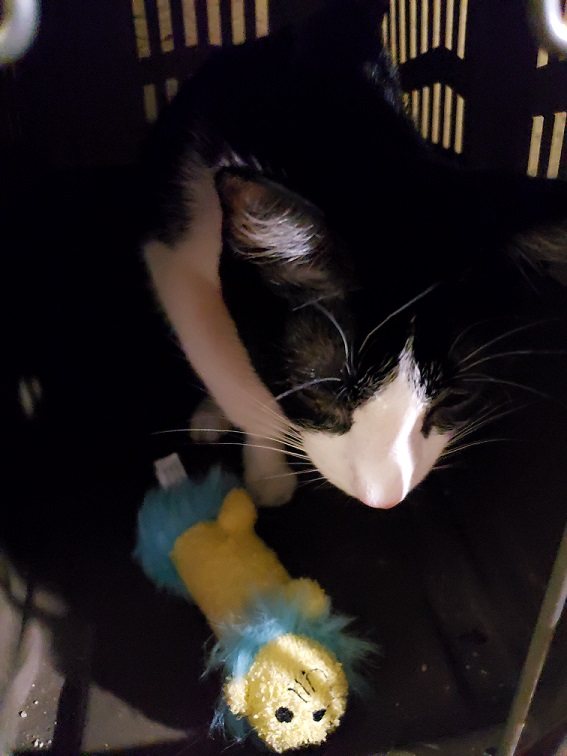 Oreo Playing with the Itty Bitty Batters Catnip Toys
Here's what we liked about Itty Bitty Batters:
They are inexpensive (which is good, because if your cat really loves them, you will be replacing them regularly!)
Large enough to kick and wrestle with, but small enough a cat can carry it around without dragging it.
Catnip. Enough said.
SO CUTE! SQUEE!
Soft, but durable material plushie.
No small parts, like bead eyes or ribbons.
Cats can rabbit-kick it
Easier to find in the house than catnip mice! (My crew likes losing toys under furniture. I'm sure you can relate!)
The brand is Petmate, which has been around for a long while making pet carriers, automatic waterers, and more.
Here's what we didn't love
Not machine washable, but that's not a surprise. You will need to handwash them if they get dirty. (And they will, especially if they end up in water bowls like ours did!)
Not all cats respond to catnip so I'd like to see silvervine in some of these types of toys.
Seriously, that's it. I suppose if you really dislike cute, colorful toys, these won't be for you either. But who wouldn't love these?
Purchase your own Itty Bitty Batters Catnip Toy below!
BarnCatLady.com Coupon Code – Save 20% at Petmate.com
Save 20% off orders $49+ with coupon code BARNCATLADY.
One use per customer. Not valid on sale items, previous purchase, or in combination with any other offers.
Oreo Reminds Us to Play Safe
As always, please supervise all pet play! While cat toys are designed to be safe, but accidents can happen. It could be very bad if the cat ingested the filling material.
Replace your Itty Bitty Batters from Petmate.com as soon as it starts to get damaged or wears out.
As hard as Oreo plays with hers, I will be doing the same!
Lovies!