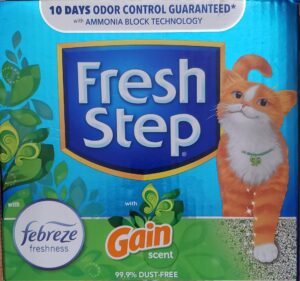 Cat lovers can all agree that dealing with cat litter kind of stinks. There are many different options out there just to make cleaning a litter box more convenient or – more importantly – less smelly. There's now a new kitty litter option to try: Fresh Step with Gain Scoopable Cat Litter.
Owning a cat is an awesome and rewarding experience. Cleaning the litter box is still not that awesome or rewarding. But if you choose a decent litter, you can make this chore less of a stinky one.
Disclaimer: This post contains affiliate links. This simply means that I may earn a small commission on qualifying purchases, at no cost to you. Please read my Affiliate Disclosure for details. Thanks for supporting the kitties!
Disclaimer: I received a sample box of Fresh Step with Gain Cat Litter in exchange for either an honest review or feedback on what I disliked about this product. All opinions are my honest assessment after use.
About Fresh Step with Febreze Gain Scent Scoopable Cat Litter
Fresh Step Febreze Freshness with Gain Scent is a scoopable, scented cat litter from Fresh Step. According to Fresh Step product information, this new kitty litter:
Scented with Gain
Scoopable
99.9% Dust Free
10 Days of Guaranteed Odor Control
Uses Ammonia Block Technology and activated charcoal to eliminate and trap urine odors
Uses Febreze Freshness to aid in eliminating odors
First Impressions
I was pleasantly surprised by this cat litter when I received it! As most of you are aware, I have a LOT of fosters of various ages as well as my own personal cats and my cat colony in the barn. So I am REALLY picky about my cat litter as I have a hoard of cats, not just one.
My usual preference for cat litter – after having experimented with a LOT – is that it must be scoopable, although I will try other options. My main reason for using scoopable is because I've had cats refuse the litter box using pellets or other forms of kitty litter. Scoopable cat litter is so much like the sand that cats prefer to use 'in the wild'. I also prefer it to regular clay non-clumping litter because it has much better odor control.
I also usually prefer unscented because some cats are turned off by heavy scents.
This cat litter, though scented, has a pleasant, barely-there smell. The scent is not overpowering like the old-fashioned scented cat litter used to be. Additionally, not one of my cats or kittens refused to use it.
In fact, one liked it so much, he immediately entered the litter box and dug around for a prime spot to take a wee. I hadn't even finished pouring.
I kept one litter box with my old unscented litter in it and a box with this new litter. Both boxes saw equal use, so the cats didn't prefer the unscented litter to this one at all. They appeared to use both equally. It just depended on which one they thought was cleaner at the time of use.
I was also thrilled to learn that they did not lie, it definitely eliminates odors for at least 10 days. I even experimented by letting the boxes get NASTY to see when it would start to give an odor. (I have a lot of cats using boxes, so that doesn't take as much time as you'd think with my hoard.) Let's just say, if you get your cat box that nasty, you have more problems than which litter you're buying.
Pros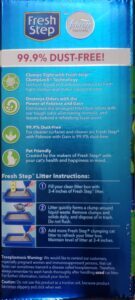 Scoopable
Activated Charcoal is amazing at odor eliminating. Seriously.
The scent is pleasant but barely-there, even when the cats were using it.
Cats actually LIKED it.
Dust-Free
It definitely is GREAT at odor control for days even with multiple cats!
The clumps don't tend to stick to the bottom of the litter box pan as long as you scoop regularly, which is a huge bonus.
Price is reasonable for a quality product.
Cons
It's scented, so if your kitty really dislikes scented cat litter, this one may not be for you.
Fresh Step with Gain Verdict: A Huge Hit!
I loved the Fresh Step with Gain Scent and the cats seemed to enjoy it as well. I would definitely recommend this to any cat owner, including multi-cat homes. This cat litter is definitely worth trying out.
I have to admit to being surprised that I enjoyed this litter so much as I usually avoid the scented varieties. It's an excellent quality product, scented but not strongly, and works just as advertised.
I even tested the boundaries of it by letting my multi-cat household seriously dirty the litter before scooping and even gross, you can't smell urine odors!
I definitely loved this one.

Please note: this variety is only available at Chewy. There are other varieties of Gain Scented Fresh Step available at other retailers, if you're interested in trying them out:
Lovies!