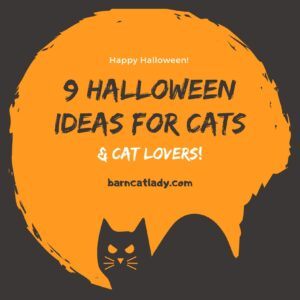 October is the month of pumpkins and hissy cat silhouettes in windows. But what CAN you do for a cat during Halloween? It turns out there are TONS of Halloween ideas for cats!
(Though, these ideas are more for their paw-rents than for the cats. You cat probably does not care about Halloween, but we never can tell, right?)
But there ARE some nifty products available for cats and cat lovers that have a Halloween-ish theme.
Disclaimer: This post contains affiliate links.  I may earn a small commission from qualifying purchases, at no cost to you.  Read the Affiliate Disclosure for full details.
1. Halloween Toys: Best Idea for All Cats
If your cat isn't thrilled with collars or costumes, then toys are probably the BEST bet for a cat. This idea is also one of the few that you can use with your feral cat colony or barn cats.
Even if your cat isn't that interested in toys, purchasing a few catnip ghosts or bats might peak his or her interest! Or even just a classic catnip mouse colored orange.
Here's a few ideas for Halloween cat toys.
2. Halloween Cat Houses: Indoor & Outdoor
Another amazing idea is to decorate your lawn with a spooky cat house that also helps your feral cats stay warm during the chilly month of October. You can have one of the outdoor cat shelters as a heated Halloween cat house, which can be found only at Chewy!

There are also indoor cat houses with scratchers and such that are oh-so-spooky as well.
3. Halloween Cat Costumes & Clothes
PSA: As a cat behaviorist, I urge you to be cautious with cat costumes. Most cats do NOT enjoy wearing costumes. If you see pictures of cats with headpieces and full-body costumes, they nearly always look unhappy. It's because they ARE. Unless they are a hairless breed used to wearing shirts and such, most cats put into a costume are going to hate it. Don't torture your cat with playing dress-up if the cat absolutely hates it. Seriously. Never force a cat to wear a costume.
There are even costumes available for your cat! Halloween isn't just for kids anymore. While I don't recommend full-body costumes for cats, there ARE some cute ideas for costumes that don't look TOO painful for the cat.
My favorite is a bread collar costume that is supposed to make your cat look more like a loaf, while he… well, loafs. Or the black bat wings that would look amazing on a black cat, as long as it's attached like a harness. Or a cloak made to look like a pumpkin. If you own a hairless cat, they even have Halloween pet sweaters.
Choose a costume that is more of a collar or harness type costume, if you go this route.
Or you can have your cat wear Princess Leia buns, though I definitely don't recommend it.
4. Halloween Collars & Bandanas for Cats
This is especially useful for people who respect their cats' wishes, but still want a little Halloween fun.
Just remember to purchase a break-away collar. Some cats need time to get used to a collar before they're okay. Some take to it nearly immediately. And some lose their minds so badly that this is not a good idea. Use your best judgment when collaring a cat.
You can even get a personalized Halloween bandana or Halloween ties for your cat or dog, if you wish. Don't leave ties or bandanas on a cat unsupervised.
5. Halloween Cat Food & Treats
No, I'm not kidding. Cats can eat pumpkin too! (It's actually very good for them, but not really nutritionally. More on this in another post.)
Wureva makes a Pumpkin Patch canned cat food that looks amazing. We all know that wet food is a great idea.
6. Halloween Cat Scratchers
Even cat scratchers have joined in the Halloween fun!
Want one shaped like a tombstone? They've got it!
7. Halloween Cat Beds & Caves
The selection of these is rather slim, but you can get creative with colors, at the very least! Want an orange cat cave that looks like a pumpkin? Or something more fun like a shark-shaped pet bed?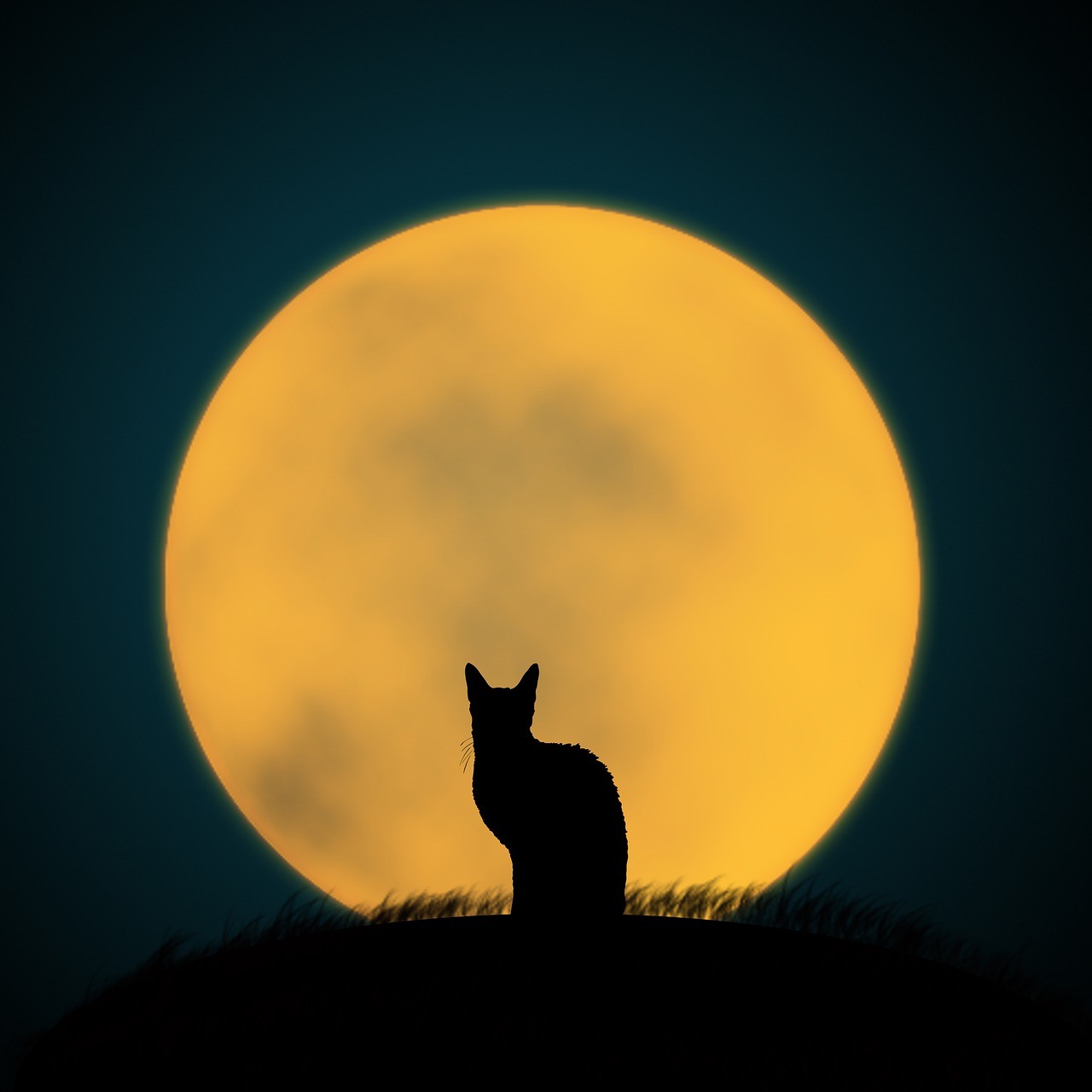 8. Other Halloween Ideas for Cats
Some other ideas for cats can include:
9. Halloween Ideas for Cat Lovers
Now we all know the Halloween ideas for cats that I listed in this article are REALLY for their parents, not the cats. I hope I'm not bursting anyone's bubble when I tell you that cats do not care about Halloween. They might find the toy spiders fun to swat around, or dangling ghosts fun to bat at, but that's it.
Really, buying fun Halloween cat collars for your girlfriend's cat is REALLY buying it for your girlfriend and she'll probably like you more for it. That said, here are some other excellent ideas for yourself or other cat loving people and not for the actual cat.
There are SO much you can do with items that are Halloween-themed with cats on them. You can even dress your dog in a cat-type costume!
Halloween Tips for Cat Lovers
Halloween can be a scary time for pet cats as well as for feral cats. It can also be dangerous. Remember to purchase cat treats, apparel, toys, and other items that are SAFE for your cats. If you feel that an item might be iffy, then please do not leave your feline companion unsupervised while they are playing or interacting with the item.
Other things to consider when deciding on Halloween pet items:
Is this likely to scare or traumatize your pet? Then don't do it. (No, it is not funny. Cats don't deserve to be purposely scared for our amusement.) This means costumes, too.
Don't force your cat (or dog) to wear something. This can be dangerous if you get a costume halfway on the cat only to have them completely freak out and get tangled in the laces or sleeves, which will only cause more panic, injuries, and possibly death.
Keep all electrical cords and unsafe decorations away from your pets. Then could be electrocuted, eat something toxic or get plastic spiders in their stomachs, or whatever possible thing that can happen.
Keep candy and other goodies away from your pets. This is especially important for chocolate, which is toxic to most animals. However, even 'safe' candy would be horrible for your pet in large quantities. If you think your pet has ingested chocolate or other candy, please contact the ASPCA Poison Control Center at 888-426-4435.
Keep your cats (and dogs) in a quiet room in the house during Trick-or-Treat hours. You don't want your pet darting out the door or needlessly scared by constant strangers coming to the door.
Microchip your pets. The best chance you have to get a lost pet back is to have him or her microchipped. I recommend it for your community cats, too, if you are able.
Keep track of your community cats. They will likely hide during neighborhood Halloween activity, but it's always best to check on them for the first few days.
Remember, Halloween is for people, not pets. We put fun collars on them, or buy them holiday-themed toys and beds, but they don't actually care about that. By all means, use Halloween as a reason to spoil your cats, but don't use it as a reason to torture them with large costumes. Get a fun collar, instead!
Lovies!