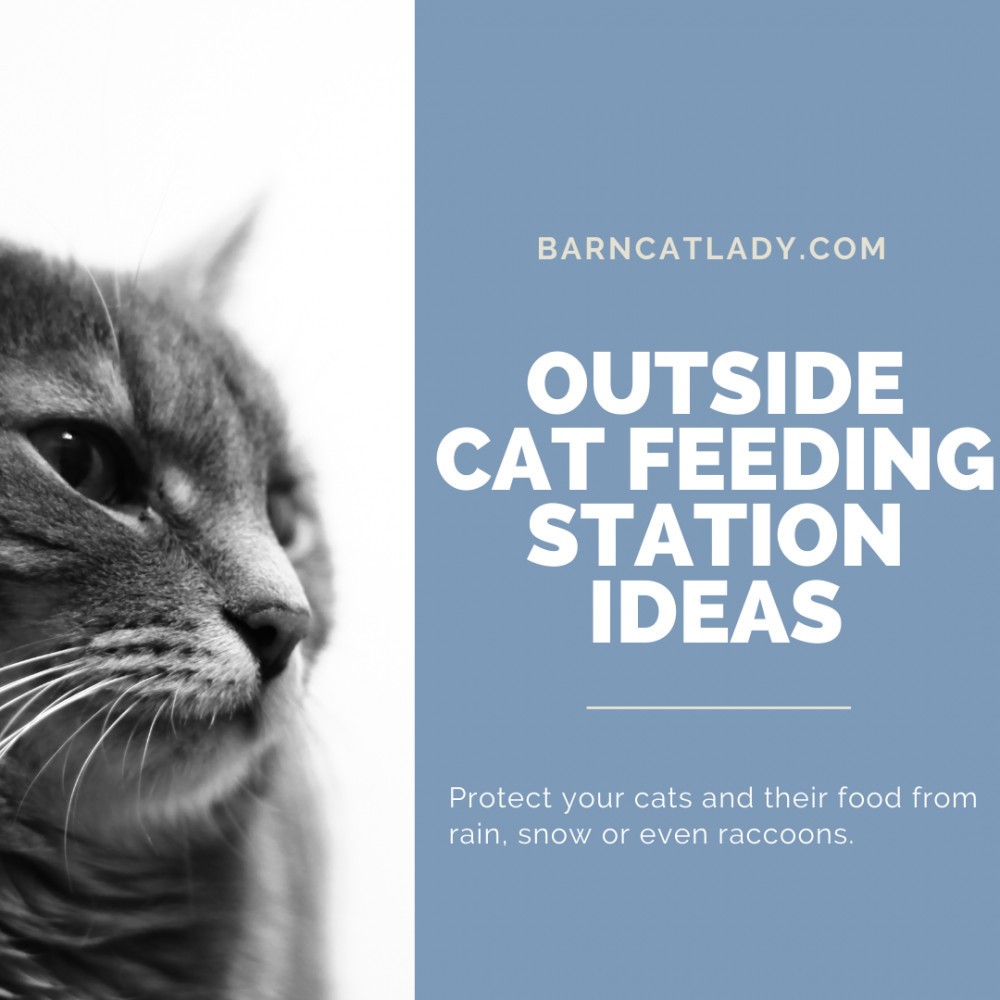 Feeding feral and community cats can get expensive. You definitely do not want to waste it. Nor do you want to feed your beloved colony, only to have the food stolen by raccoons or ruined by rain before they can eat it. You need an outside cat feeding station to help protect the food from weather, or wildlife, or even to help protect the cat from the weather.
There are many types of cat feeding stations you can purchase or build, some designed to simply protect the food from bad weather. Some are designed to be raccoon-proof. Some are a complete box to help protect the cat as well while he eats.
There are many options to choose from.
You first have to decide what kind of feeding station you need. Why exactly are you considering purchasing or making a cat feeding station?
Disclaimer: This post contains affiliate links. This simply means I may make a small commission on all qualifying sales, at no cost to you. Read Affiliate Disclosure for full details. Thanks for supporting the kitties!
Covered Cat Feeding Stations
If you are looking to protect the food from the weather (and sometimes the cat too!) then you likely need a covered cat feeding station.
Pictured above is a cedar cat feeding station from CozyCatFurniture. These types of cat feeding stations are very sturdy and made of wood, such as cedar. Some of these can be bought from places like Amazon or direct from the crafter's websites. They're very nice to look at though if you want to set one up on your property.
The downside is these can be seriously pricey for even a small one.
Another place to have a covered outdoor cat feeding station made is the Ark Workshop. These will take some time to come in as each order is custom made (and expensive), but they have MANY different designs to choose from, including enclosed or elevated cat feeding stations!
Feral Villa makes outdoor cat feeding stations as well as cat shelters!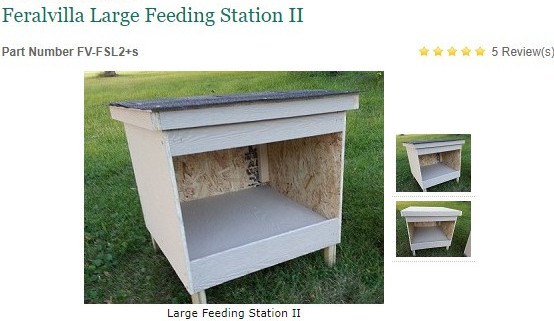 The alternative to one of these is to use plastic storage totes and build your own! Alley Cat Allies has instructions on how to build one using plastic totes. These are inexpensive to make. The downside to these is that they don't last long and are kind of obtrusive looking.
Enclosed Cat Feeding Stations
If you want more protection for the cat and the cat food, you could consider an enclosed cat feeding station or turning an outdoor cat shelter into a feeding station. It's simply allowing a cat to enter a shelter to eat!
Cat feeding station ideas you can purchase at Amazon for an enclosed cat feeding station include feral cat shelters, dog houses you repurpose, or even a pet carrier without the door can be used as an enclosed feeding station!
If other wildlife isn't a concern and you feed your cat colony on schedule, the size of the door in the above designs is fine. If, however, you feed at night or leave food unattended, you may wish to purchase the cat shelters with smaller doors, such as FeralVilla's cat shelters.
As mentioned previously, you can purchase some enclosed feeding stations at the Ark Workshop.
Elevated Cat Feeding Stations
If you're looking for cat feeding stations that are not on the ground, there are options for those too!
The one pictured above is a CozyCatFurniture design. Pricey, but can be an effective feeding station OR cat shelter for sleeping. You can purchase it at Amazon!
Ark Workshop also builds elevated cat feeding stations, as well.
Wildlife-Proof Cat Feeding Stations
If raccoons, opossums, or other animals are getting into your cats' food, there are some interesting ideas to help protect your feeding area!
My favorite raccoon-proof cat feeder is the automatic cat feeder that doesn't rely on microchip recognition.
An automatic cat food feeder, specifically this one, has been proven to keep raccoons from getting the cat food inside. The downside? Raccoons can CARRY it off and have been known to try this while they figure out how to get the food inside.
You will need to rig it so they cannot carry it away, either by putting it securely inside a weighted plastic tote like this lovely video shows or by placing in inside of a cat shelter where it cannot be removed through the door.
This suggestion for feeding free-roaming cats should only be done on your property as you don't want this destroyed or stolen by people in public parks or business parking lots.
Another suggestion for keeping the wildlife away from your cat's feeding station is to use a cat flap that scans for your cat's microchip. If you ensure your cat colony is microchipped during Trap-Neuter-Return (TNR), this might be a good option when combined with a cat shelter like the ones mentioned previously.
Want to build your own raccoon-proof feeding station? Instructions can be found here.
Cat Feeding Station Ideas
From simple DIY designs with Rubbermaid totes up to expensively built cat houses, there are a million ways you can set up an outside cat feeding station. You can buy winter cat shelters to repurpose as a feeding station. You can build your own wooden platform for feeding your cats. Or buy an automatic feeder!
Don't know what to feed community cats? Don't forget to read my post on the best food for outdoor cats.
Did I forget to mention a feeding station idea that you use? Did you purchase one of the ones I mentioned in this post? Let me know by commenting below.
Lovies!