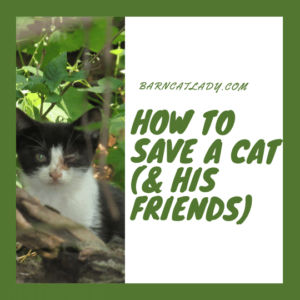 You want to know how to save a cat, right? Hopefully, you want to save all of his friends too! You found yourself in a situation that is becoming all-too-common these days. Perhaps it was something like this…
You're taking out the trash one evening and hear a sound from beside you. Peeking under the shrubs lining your drive, you see glowing eyes low to the ground and hear another small sound that might have been, "Mew." Squinting into the dark hiding spot, and being careful to move slowly, you call, "here, kitty, kitty."
Slowly, the scruffiest, skinniest and saddest cat you've ever seen creeps towards you.
Feeling sorry for him, you start to feed him. Two nights later, his friend follows him to your home. A week later, you have four sad-looking cats looking to you for food and a little kindness. After a month, every cat in the neighborhood is in your yard every evening, eager to be fed.
You don't know what to do. You want to help them but some of them won't even come close to you, some disappear as soon as you come outside. Some are so desperate for attention that they'll rub all over you and accept head scratches for hours while ignoring your food offering.
So, you start to search online about what you can do to help these poor creatures you've found yourself feeding and came across this post on how to save a cat (and his friends). If you're interested in my personal story, you can find it here. For now, let's help you.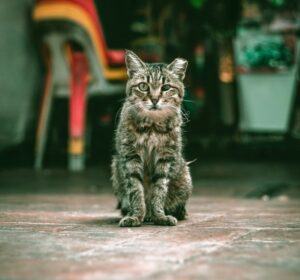 Ferals? Strays? Lost Pets?
What you have around your yard is a colony of what is commonly called community cats. They include feral cats and semi-feral cats, which are those cats who were born outside and had little to no human contact and cannot be handled easily. They are often shy and will avoid most humans.
In fact, other than their caretakers, they might not be seen at all.
There will be friendly cats or strays, which are cats that were socialized but have either lived nearly their entire lives outdoors but can be pet and handled just fine or were once indoors. These are often lost or abandoned pets.
Cats will gather into what is called colonies when they live in the outdoors. They do this for survival and companionship. This is why when you start feeding one cat you will often get a lot more showing up.
Ferals are considered unadoptable in most cases. Community cats that have been outdoors their whole lives but are more trusting are often considered unadoptable as well. Unless they want to come inside. As any cat owner is aware, cats do what they want to do. But most of the time, they get used to being outside and don't like being confined indoors after experiencing such freedom.
Let's face it. Life for an indoor cat is not as exciting as life outside. In fact, it can be kind of boring for them unless their human parents take the time to engage them with mental stimulation, leashed walks, a catio, and hunting games.
There are exceptions, of course. Strays and the lost or abandoned pets have the best chance of being adopted as they have once lived inside and will often happily go back to being an indoor cat.
What Can You Do?
There are quite a lot of things people can do to help their community cat problems and help the cats themselves.
1. Feed them.
They need food and water. Cats are domestic animals that prefer to rely on humans for their basic survival. Even feral cats! They prefer to gather around human settlements as it is easier to find food.
It's believed that cats domesticated themselves somewhere around 9,200 years ago. Those of us that have cats should not be surprised by this information. (Dogs were domesticated at least 14,000 years ago but some scientists believe it may have been even longer, up to 40,000 years ago.)
Cats have come to rely on humans for survival. So even feral cats will gather around a human-produced food source, if available. Feral cats will survive better if cat caretakers leave as they're not always dependent on humans.
In fact, feral cats are basically wild animals whose ancestors were once domesticated. Feral cats can survive on their own on uninhabited islands. We know this because they have. That said, urban feral cats are going to be relying on people in part for their food.
Community cats need food at least once a day, although I recommend twice. Even if your cat is a working cat or barn cat and you want him or her to catch those mice.
However, if you don't plan on taking responsibility for these cats and their lives, then don't feed them and leave them be. They will travel on to find a better source of food. I know it sounds cruel, but if you don't want the responsibility, then don't start feeding them. Once you start feeding them, they start to depend on you and they need more than just food.
Visit my post on outdoor cat feeding tips for more information.
2. Check for a microchip or lost and found ads
It's always best to at least try to see if the cat could be lost. Take them to a vet or your local shelter and scan for a microchip. Make sure to post you found the cat on Facebook and classified ads in your area. Check the local lost and found ads daily. Call your local shelters and inform them you found a cat and the description as many shelters take lost or found details and have a database.
You might make someone happy and relieved you found their cat. Dogs are often returned to their owners while cats are often dismissed as strays immediately, especially in areas with high community cat populations. Even if you don't think the cat was a pet, it could have been. Even cats you might think are feral could be just scared. Trap them if you must, but check.
If nothing else, that cat is one less cat you have to care for if you find his original home.
3. Spay and neuter
This is the biggy. You absolutely should spay and neuter any cat you're feeding. Feral and friendly cats alike. Trap them and bring them into your local shelter/TNR group for surgery or low-cost spay and neuter clinics. There are often huge discounts for community cat alters. You can often find places to do it for free, too.
While the exact number of community cats in the United States is unknown, some estimate it might be as high as 70 million. That's a lot of unowned cats!
Traditional measures include eradication and relocation. These have often been proven ineffective. Even in one of the few states where shooting feral cats is not illegal, and they are STILL overrun with feral cats. Killing them also creates a vacuum effect that has new cats moving in or rodent populations to explode.
It also isn't a solution as it doesn't solve the ongoing problem that is causing these cats to be born outdoors: unfixed pets from irresponsible pet owners.
There's a method called TNR or Trap Neuter Return that is being adopted across the country in many communities. It's a way of stabilizing the population to avoid more kittens being born and yet avoiding the vacuum effect by having the cats slowly reduce.
Anyone who has participated in TNR can attest to the fact that a colony of cats that's been fixed can live years without a single cat being born in that neighborhood and very few 'unfixed' cats showing up as they often defend their territory against roaming toms and strange cats.
There are exceptions as people like dumping pets and kittens in areas with large community cat populations. Plus, it's also the most humane way of dealing with the problem and reducing unwanted behaviors like spraying and fighting.
Part of the TNR effort includes a huge emphasis on spaying and neutering of pets and many communities are trying to open up low-cost spay and neuter clinics in places that don't have them yet. It is considering the cause of feral cats and it is implementing a solution to help the cause AND the effect.
It works! In communities with a TNR program, low-cost spay and neuter clinics, and a working cat or barn cat program, their shelter euthanasia rate plummets! In 2019, Lafayette Animal Shelter and Care Center in Lafayette, Louisiana achieved no-kill status in March thanks to these efforts. The number of kittens being brought into shelters dropped, too! The mayor of Lafayette, Louisiana is pushing hard to be a no-kill city by 2020. They're working hard to achieve these goals!
4. Emergency veterinary care
If a cat is ill or injured, it's best to take him or her into a veterinarian. While TNR will vaccinate community cats against rabies at least, the other vaccinations are optional and sometimes too costly for your local feral cat group to afford to do. But any caretaker will attempt to seek medical care for their colony if a cat becomes injured or sick, which sadly happens too often with outdoor cats.
Many TNR and low-cost clinics that fix feral cats will also care for any injuries or obvious illnesses during surgery. A lot of the time, they will do this for little to no cost.
5. Socialize the kittens (and adopt them out!)
So you trapped and fixed the adult cats in your new community cat colony. But what about the kittens?
Part of the TNR effort is socializing kittens in an effort to get them adopted as pets. Kittens of feral cats are kittens just like kittens of pet cats. They are exactly the same. If you get them young enough, taming can be instantaneous. If they're a little older, it can take a bit of time, but it's definitely possible.
PSA: Do NOT take kittens away from the mother cat if they're nursing! Do not assume an unattended litter of kittens is abandoned. Mama has to leave her kittens often to find food. Please read the Abandoned Kitten Care Guide for more information.
After four or five months, a kitten is not going to be easy to socialize. They may become tame but it might be harder to get them to accept other people. It depends on the cat of course, but sometimes they may only be tame to you and still fearful of other humans. Very few people want to adopt a fearful cat that will take time to build trust with.
This reason is why most TNR and animal rescue groups do not try to socialize feral kittens over a certain age. It takes a lot of time, for one thing. Time that could be better spent saving MANY lives instead of only one life. It also fails a lot. It's sad, but most people do not adopt the fearful cat at shelters.
Even if you succeed in taming an older feral cat, chances are that cat is not going to be tame to everyone, be fearful of new people and environments. This requires a lot of trust-building with his new owners, but it's likely he won't get adopted at all.
I personally socialized older ferals and ended up having to keep them because they only like me. You can read about one of them here.
It's a sad part of life that most people don't want a cat that takes work to make them friendly. They want cute, instant love from a cat or kitten. A fearful young cat has very little chance of being adopted. So try to socialize them as young as possible.
7. Find Homes for the Friendly Cats!
Any cats that are already socialized and obviously can be adopted as a beloved indoor pet should be fostered and eventually adopted into a home. Do not leave friendly 'strays' to live out their lives alone outside. They can have a much better life indoors with some loving human being who will keep them safe from being eaten, hit by a car, and give them as much love and attention as they deserve!
6. What if your new colony is in danger?
Sometimes, neighbors or landlords or the like hate community cats. Some of them often try to trap and abandon them in the woods or fields or take them to animal control. Or worse.
First, check your local laws. Call the local Humane Society or local SPCA to find out what options you have.
But if you absolutely must (and ONLY as a last resort), you can relocate your cats to farms and warehouses and other outside places as working cats by getting volunteers to take them on. Do NOT dump your cats on someone's property. Community cats are deeply attached to their location. It is their home. They will not stay in the new place without proper acclimation and they often die trying to find their way back to their original home.
Be compassionate and look for volunteers to take in your fixed community cats. Barns make excellent homes. As do warehouses and trailer parks and other places that have shelter for these cats. And a cat caretaker. Community cats that rely on people will not stick around a place where they are not being fed. They will leave to find adequate sources of food.
Your local community cat groups probably have working cat programs you can ask about to find homes for your colony. Don't abandon any animal in an unfamiliar environment. Not even a feral cat.
After all, you're here to find out how to save a cat, not harm him.
Related: Barn Cat Network
Spay and Neuter!
I can't stress this enough. There is a huge companion animal overpopulation problem in the US and elsewhere. Shelters are forced to euthanize cats and dogs for space. Rescues are overwhelmed. Every 'kitten season' we find ourselves broke and taking in too many kittens that are struggling to survive. For more statistics on the overpopulation problem, visit here.
Every year I find kittens dumped at the barns, too young to survive on their own. Or a pet cat dumped at the barns because someone didn't want him anymore. Pet cats do not do well in barn situations and a lot of them die as they don't understand horses, tractors, cars, or coyotes.
The outdoor life is very rough on cats. They've adapted but their life expectancy is low without a caretaker and even WITH a really conscientious caretaker, their lifespan is nowhere near the lifespan of an indoor-only cat.
Kittens born to community cats are often riddled with parasites like worms and fleas, both of which can kill young kittens easily. They get upper respiratory infections that often lead to horrible eye infections and high fevers. Eye infections can lead to ruptures and blindness. Half of the kittens born in community cat colonies die. Even with intervention from rescues.
This HUGE problem was started partly because of the evolution of the domestic cat, but it continues because of people's irresponsibility. Feral cats have lived around human communities for thousands of years. They domesticated themselves this way.
It is only recently that these felines showed typical domestication signs, such as varying colors and patterns. It is even more recently that cats became indoor-only pets as cat litter was invented in 1947.
Spay and neutering of pets was only used when pet owners wished up until very recently. I believe the first spay and neuter clinic opened up in 1969 or 1970. And it wasn't until the 1990s that people started to fix their animals more often as a responsible pet owner instead of just a human convenience. Is it any wonder that it is not yet mandatory across the country?
Feral cats are also a result of unfixed lost or abandoned pets. One female cat can have 3 litters a year, going into heat as early as 4 months old. The situation is dire. TNR works, but only if we get people to fix their pets, stop abandoning their unfixed cats and kittens, and get EVERYONE in the community to work together to fix the problem.
So even if you dislike cats. Even if you hate feral cats. Fix them!! Fixing them means fewer cats for you to deal with if nothing else.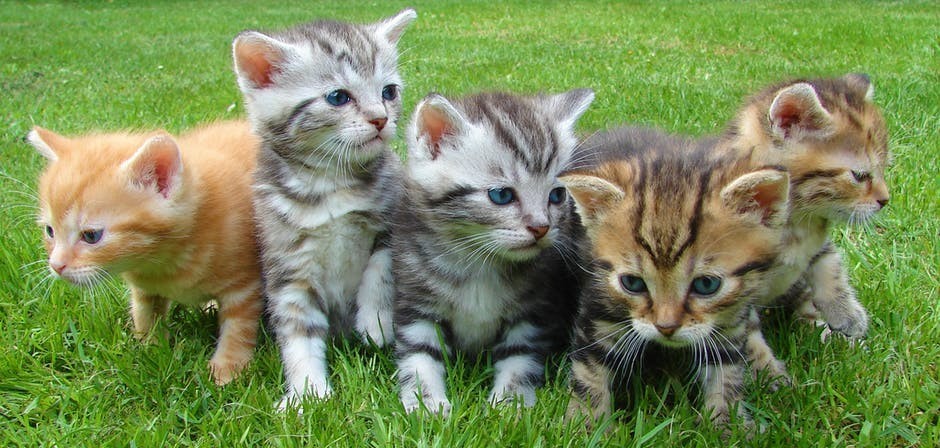 Benefits of Spaying and Neutering of Cats
Here's exactly how spay and neuter will help community cats (and your neighbors):
No more kittens, obviously.
Less fighting. Cats don't fight as often as it sounds like they do. They DO fight a lot when they're unfixed, however. It's aggression. Cats are territorial even fixed, so they'll still protect their homes and food, but they are less likely to bite you or other cats and less likely to be aggressive. Notice I said less likely. The hormones that amp up aggression will be gone. But if your cat is basically an asshole, you're stuck with that one.
Less spraying. Toms, which are unfixed male cats, are usually the culprit of the nasty urine smell all over your porch or yard. Females will do it as well, but the toms REALLY stink. And fixed cats will do it in response to unfixed cats doing it as well. It's not 100% foolproof, but you'd be amazed how much it reduces just by getting them fixed. It also helps to stop the spraying from becoming a habit the younger you get a cat fixed.
Healthier cats. They gain healthy weight and stop looking so skinny, and they stop getting hurt so much from fighting. Bonus, they don't get testicular cancer, uterine infections, or other reproductive issues. Even breast cancer risk is greatly reduced. (Yes, cats can get breast cancer.) Just by getting the last feral tomcat fixed this year, my entire colony is looking better than before, and they were already healthy.
They become less skittish. While I was TNRing a bunch of cats, I watched terrified young newly fixed males start to come out more and focus on getting food and letting me approach when before I never even saw them, they were so scared. They settle down and stop worrying about mating and start enjoying food and lazing in the sun and hunting.
No more cats in heat. You all know what I'm talking about. Talk about a migraine-inducing behavior. Yowling at all hours of the night is NOT fun.
No more roaming! Unfixed cats often roam in search of mates. This is especially true of unaltered toms. Roaming increases the risk of early death in cats, simply because they cross more roads, risk more coyote interactions, or a million other things that can befall an outdoor cat.
Less frustration. Cats thinking about mating are often more frustrated and more distractable than fixed cats. It's easier to train your cat if they're fixed.
Cost-effective! It's way more costly to feed unwanted kittens and puppies and then attempt to find them homes than it is to fix the parents before they have babies.
You will be saving hundreds of lives!! Think of how often that female cat will have kittens this year. If half of her kittens are female, think of how many kittens they'll have next year. And the next. And the next.
Related: Kitten Calculator
How to Save a Cat (and His Friends!)
Provide Food and Water
Check for a Microchip or family that might have lost a cat
Spay and Neuter
Emergency veterinary care
Socialize and Adopt the Kittens
Find Homes for the Friendly Cats
Relocation in emergencies
We have all seen a desperately hungry kitty outside and have wanted to help him. There's more you can do other than simply feeding them as feeding them is only the first step. Don't take on a colony of cats if you aren't committed to them.
Have you already got a colony of cats? Want to share your personal story? Tell me below! I'd love to hear about your experiences with community cat care.
Only by sharing our knowledge can the wonderful group of volunteers that are community cat caretakers truly improve the lives of outdoor cats everywhere.
Lovies!